Build your music network with the swipe of your fingertips.
Vampr is the Tinder of the music networking world. Working in a similar way to the popular dating app it lets you scroll through profiles and connect with people to chat.  Vampr gives you three choices when faced with a profile. You can swipe right to connect, left not to, and up to be shown that person again another time. Great for if you just want to browse to see what's out there.
When you set up your profile you can choose what music industry category best suits you. Some of the choices – manager, label, producer, songwriter, singer, photographer, even music lover. This also gives you plenty of ways to narrow your connection search to help you meet who you are looking for.
Real life Vampr Success!
We all love to hear a real life app connection success story.
In 2017 Miss Alexandra started using the app. She connected with Canadian producer LaFlamme and they started chatting. Thanks to Vampr, these 2 artists from across the globe now have their debut single 'Degeneration' being released March 29th. You'll be able to find Degeneration across a range of digital stores and streaming platforms.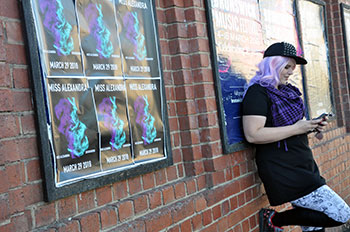 Vampr is great even if you want to narrow your search to your local area to find band members, other people to jam with, or maybe a friend to hit some gigs with.
Your profile page allows you to upload a few different images. As well as to provide a bio with links to your socials and contact. There is also a page to share your tunes – you can share a YouTube video and a track from SoundCloud.
I find these pages important. When someone connects with me, straight away I have somewhere I can go to check out what they do with ease. I can listen to a track or two, read their bio and instantly have something to chat about. (*I tend to ignore people that purely start a convo with just "Hey" though.)
Vampr has been improving their app over the last 6 months I have been using it. It's still a little bit clunky in some ways – like how the letter at the start of a sentence doesn't automatically capitalise. It's refresh speed is also a little slow at times. However the main function of the app is overall pretty easy to navigate and provides a great service.
If you're new to an area download the app and connect with the local music scene with ease. Stuck looking for someone to work with, why not give it a go. It's a handy tool that's free and who knows, maybe you'll be releasing a track with a Vampr connection sometime soon.